About Celeste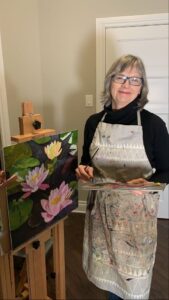 Céleste Charland currently lives in Manotick, Ontario.  She was born in Northern Quebec and raised in North Bay, Ontario.  Céleste always loved art from a very young age, drawing and painting whenever she could get her hands on material.  She fell in love with painting in secondary school but life steered her away from her first passion when she graduated. She pursued a career in Human Resources, graduating with a Bachelor's Degree in the Science of Language and a Master's Degree in Education Administration. As an HR Executive and a mother of four boys, she had little time for art until she reached her forties and re-discovered her passion during a very serendipitous painting class.  She picked up her brushes again and taught herself how to paint with acrylic.  
As her career started to wind down, Céleste began to focus on her art in a more intentional manner. She enrolled in the Ottawa School Art part-time and learned from a variety of teachers including Brian Buckrell, Susan Woolgar, Donata Szafian, Andrew Sookrah, Dominik Modlinski, Lee Munn and Atelier de Brésoles.   
Once she found herself immersed in the art world, Céleste discovered that she was inspired by the beauty in the every day world around her. She loves portraiture, landscape, still life and abstract and enjoys continuously exploring the vibrancy of colours using various styles and media.
 'I love everything about the creative process and am always in awe of the beauty around me.   Over the past ten years,  I have been exploring painting in a more intentional manner,  learning and soaking up everything I could. I love experimenting with colour, adding a subtle surreal quality to the world around me .  I use mostly oil and acrylic, often playing with both at the same time.  I enjoy working on canvas, wood and paper using a variety of tools including brushes, knives, sponges.  Painting is the closest I ever get to expressing my gratitude for my life and the world around me. ' 
Céleste is a member of the Foyer Gallery, Arteast Ottawa, Manotick Art Association,  Kanata Art Club and Arts Carleton Place Association. Céleste has exhibited her work at Trinity Gallery in Shenkman Art Centre, 2022 Ottawa Garden Festival at the Canadensis Botanical Garden, Algonquin Park Visiting Centre, Manotick Spring Show, Manotick Splash Gallery, White Water Gallery in North Bay and Hunt Club-Riverside Park Community Center. Her work is also featured at the Electric Street Gallery in Ottawa.